How to Send Samples
1

Contact Us to Receive a Formal Quotation

Price lists are available in EUR, GBP, KRW, RMB, and USD.
Note: Isobar Science accepts credit card, ACH, and wire transfer payments.
2

Submit Data Sheet

Contact us to receive our online sample submission form.
3

Sample Size Recommendations

Please read sample selection and size requirements for Sr/Sr ratios, U-Th dating, Sr-Nd-Hf isotopic ratios, B isotopes, and Pb isotopes.
4

Recommended Sample Containers and Packaging

For large samples, place directly into Ziplock bags.
Examples – Bone, Coral, Shell, Teeth, Wool
For small/fine samples, wrap in weighting paper if needed before putting them inside a labeled Ziplock bag.
Examples – Igneous Rock, Metal Artifacts, Sediment, Soil
For very small samples, use vials with screw tops, microcentrifuge tubes, or counting slides before putting them inside a labeled Ziplock bag.
Example – Bone (ashed), Forams, Mineral Dust (ashed), Stalagmite and Flowstone
For water samples, we strongly recommend using plastic bottles (HDPE, LDPE, PP). If glass is your only option, please ship them with enough packing so they will not break.
Note: The maximum sample size requirement is 125 mL.

Important Notes: If you are aiming for organic materials, you should not put/wrap your sample in any kind of plastic container. For organic analyses, place your sample in glass or aluminum/stainless steel containers. If you are aiming for major elements, you can use either plastic or glass vials. If you are looking to measure trace or rare earth elements, you store your sample in a pre-cleaned plastic vial/container.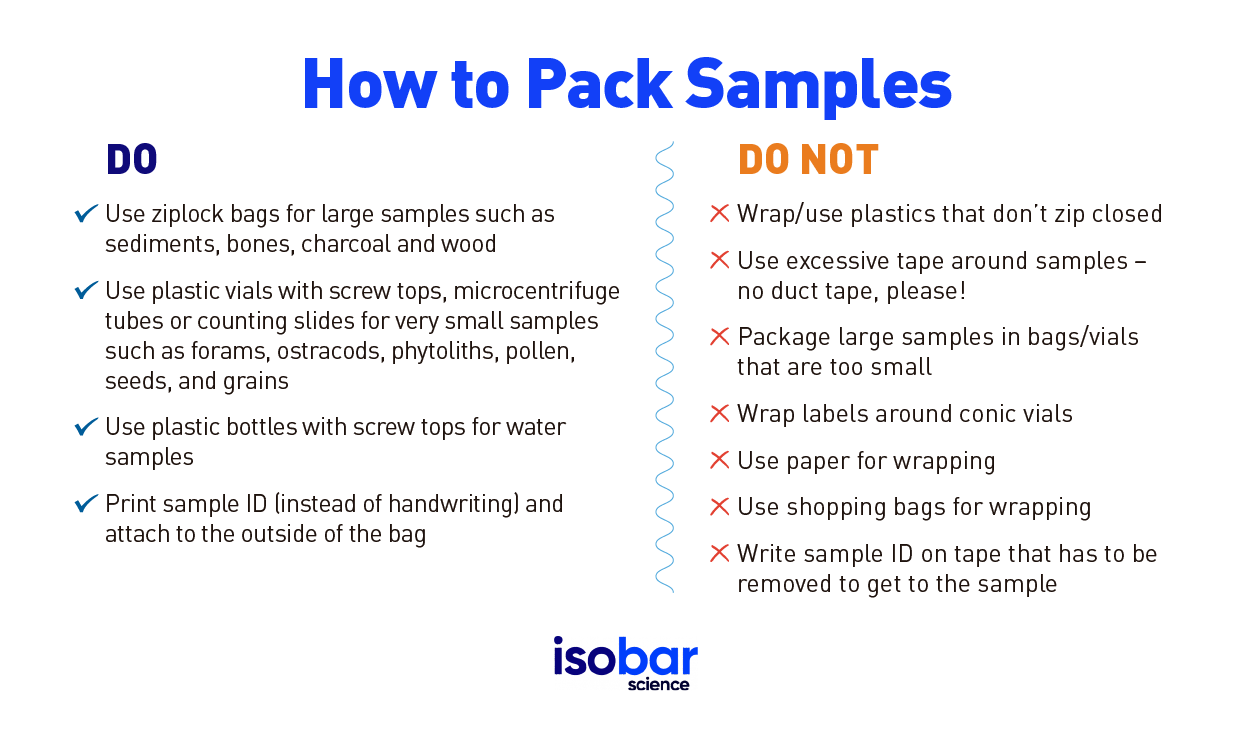 5

Package Samples for Shipment

For solid samples, package your samples in small boxes instead of using envelopes to protect samples from being crushed during shipment.
For water samples, place the bottles inside a plastic bag and seal the bag with a zip-tie or duct tape. Note: The maximum sample size requirement is 125 mL.

Contact us for​​ shipping ​instructions for your region ​​before sending your samples.
Please use a tracked mail service or courier and email the tracking number to info@isobarscience.com.