Biogenic Apatite (CaPO4) Isotope Analysis – Sample Types and Selection
The following recommendations are general guidelines. Individual sample size requirements largely vary based on the preservation of the material and concentration of phosphate therein. Contact us for advice if you are concerned that your samples are too small.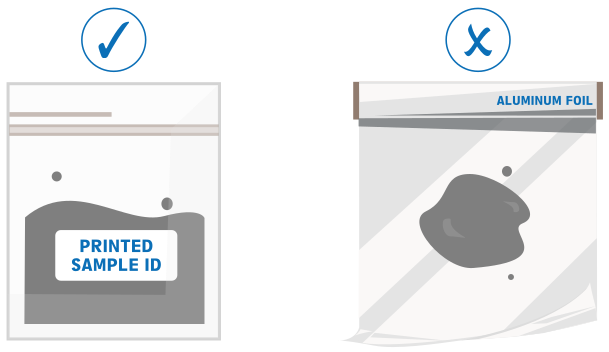 Reminders
DO NOT wrap samples in aluminum or any metal foil. Use weighing paper if you need to wrap them.
Submit samples in a ziplock bag or teflon container with PRINTED SAMPLE ID attached outside the bag.
Always choose the best samples for your research objectives
Our recommended sample sizes assume the material is dry and free of adhering matrix.

Bone (non-ashed)
SAMPLE SIZE
30 mg
RECOMMENDED CONTAINER
Ziplock bags
SAMPLE PREPARATION
For the best results, make sure your samples are clean and free from soil, clay particles, calcite, and other detritus. While we accept pulverized samples we recommend that they are submitted intact. If you are submitting a pulverized sample do not use a high-speed drill for subsampling.
ALSO AVAILABLE:
Bone (ashed)
SAMPLE SIZE
50 mg
RECOMMENDED CONTAINER
Vials
(preferably with screw tops)
Microcentrifuge tubes,
or counting slides
Put them inside a labeled Ziplock bag
*Disclaimer:
ashed bone may not represent an original environmental signal.
SAMPLE PREPARATION
Please contact us to discuss
ALSO AVAILABLE:
Tooth
SAMPLE SIZE
30 mg
RECOMMENDED CONTAINER
Vials
(preferably with screw tops)
Microcentrifuge tubes,
or counting slides
Put them inside a labeled Ziplock bag
SAMPLE PREPARATION
Please contact us to discuss
ALSO AVAILABLE:
Page last updated: June 2022